ADCC FINNISH OPEN 2023
February 18 @ 9:00 am

-

5:00 pm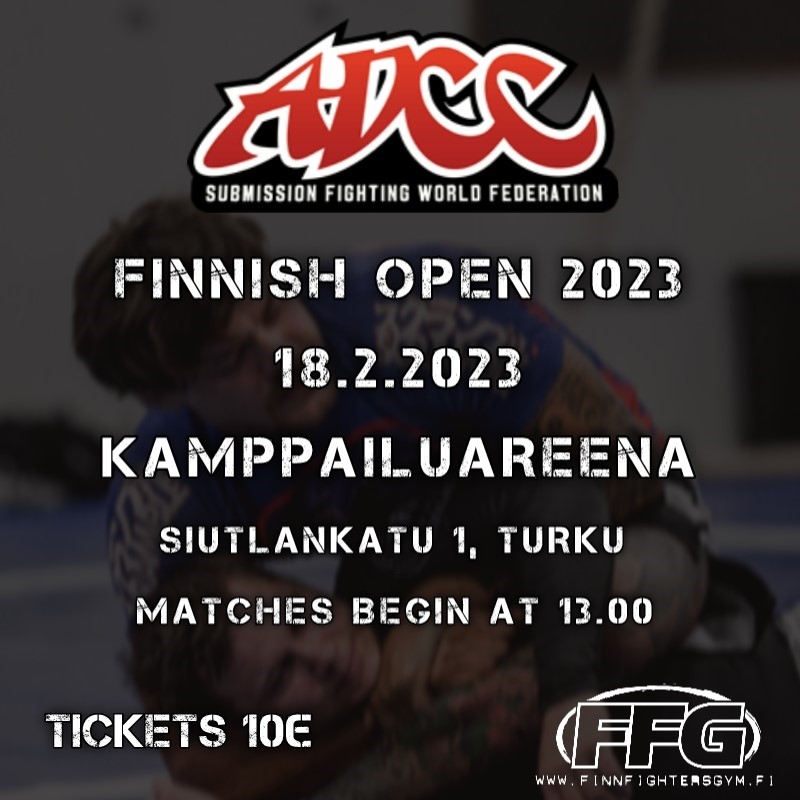 ADCC FINNISH OPEN 2023   
18.2.2023 TURKU, FINLAND                                   
KAMPPAILUAREENA SIUTLANKATU 1, TURKU – FINLAND
  Weight classes;
Men Professional: -65.9kg, -76.9kg, -87.9kg, -98.9kg and +99kg
Masters: 65.9kg, -76.9kg, -87.9kg, -98.9kg and +99kg
Beginners: -60kg, -65kg, -70kg, -76kg, -83kg, -91kg and +100kg
Intermediate: -60kg, -65kg, -70kg, -76kg, -83kg, -91kg and +100kg
 Female Professional: -60kg and +60kg
Beginners: -50kg, -55kg, -60kg and +60kg
Intermediate: -50kg, -55kg, -60kg and +60kg
http://adcombat.com/adcc-rules-and-regulations
Referees
All interested contact: adccturku@gmail.com
Prizes
Every weight classes' three best fighters get medals and diplomas.
The team that gets most of the points gets the "Best Team Cup"
Points: 1st place 5 points; 2nd place 3 points; 3rd place 1 point
Registration
The deadline of registration is 12.2.2023
Registration and event information: adccturku@gmail.com
Link: https://bjjliitto.fi/tapahtumat.php?tap=727&lang=fi
Competition payment
Competition fee is 50€
Payment has to be paid before the last registration date to bank account.
Message in the payment has to contain fighters name, team and category.
Bank Account:
Finnfighters Gym
PANKKI IBAN: FI83 4309 1520 1335 60
Schedule:                                                                                                                            
Weight in: 9.30
Rules: 10.30
Start: 11.00
Public
The doors open half hour before competition
Entrance 10€
Organized by: ADCC FINLAND